By Josh Dubow | The Associated Press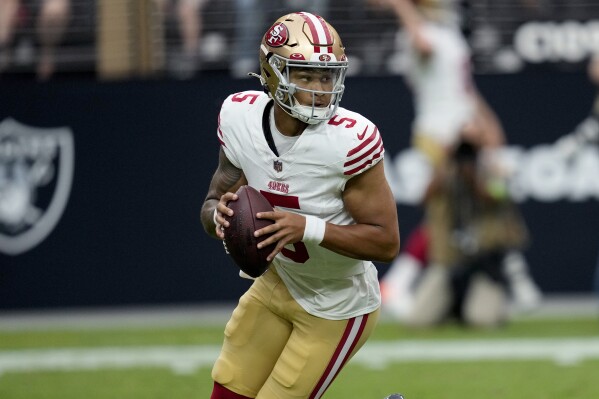 SANTA CLARA, Calif. (AP) — Trey Lance has gone from the future franchise quarterback in San Francisco to one just fighting to maintain the role as the backup for the 49ers in just over two years.
Based on the shaky start he had in the exhibition opener, it appears Lance has more work to do to beat out Sam Darnold as the No. 2 quarterback in San Francisco behind Brock Purdy.
Coach Kyle Shanahan said Monday there were some encouraging signs.
"I thought he played a lot better as it ended," Shanahan said Monday. "He ended up doing some good things. I wish we would've converted that short yardage and kept him out there a little bit longer, but that's some of the frustrating things about preseason."
The box score numbers for Lance were fine as he went 10 for 15 for 112 yards and a touchdown. But the TD came on a throw that should have been intercepted by Duke Shelley, whose bobble led to Ross Dwelley's catch in the end zone.
Shanahan called that pass "scary" but liked that Lance wasn't "gun shy" and took a chance.
"Those are things you learn from," Shanahan said. "I kind of like seeing him trying to make that play, regardless of the result. Obviously we got a little bit lucky, it ended up being a good result. I wouldn't have been happy if it was a pick, but I can understand what he saw."
Lance had one other potential interception dropped by a defender and held onto the ball too long at times, contributing to the four sacks.
Lance didn't get much help playing behind a second-string offensive line that struggled mightily against the Raiders defensive front. Lance was under pressure on half of his 20 drop-backs, according to Pro Football Focus, but also did little to help himself.
"For me, I was just excited to get back out there," Lance said. "Honestly, that was the biggest thing, go play real football again, go compete again. So, that felt good, I guess first and foremost, but obviously the score showed it. But just from drive to drive, just got to execute better."
The biggest issue for Lance is inexperience as he has thrown fewer than 700 passes combined in high school, college and the NFL.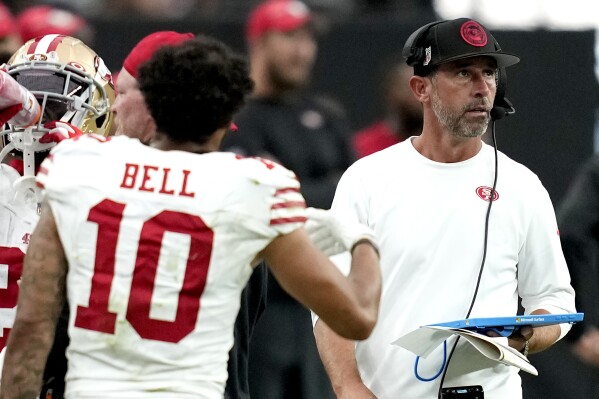 But with a star-studded roster ready to compete for the Super Bowl, the Niners have little inclination to show patience at the most important position.
It wasn't supposed to be this way for Lance after the Niners traded three first-round picks to draft him third overall in 2021. He started two games as a rookie when Jimmy Garoppolo was hurt but was hampered by his own finger injury.
Lance then went into last season as the starter but struggled in a season-opening loss in a monsoon in Chicago and then went down with a season-ending broken ankle in the first quarter of the next game against Seattle.
By the time Lance returned to full health this offseason, the quarterback taken with the final pick of the 2022 draft had surpassed him on the depth chart.
Purdy won his first seven starts last season and helped San Francisco reach the NFC title game before injuring his elbow early in the loss at Philadelphia. Purdy underwent surgery in March but returned at the start of camp and has been firmly entrenched as the starter for the Niners.
That has led to a competition for the No. 2 job between Lance and fellow former No. 3 overall pick Darnold, who signed with San Francisco as a free agent this offseason after struggling with the Jets and Carolina.
Darnold looked better, going 5 for 8 for 84 yards, including a deep shot to Ronnie Bell on his first pass of the game.
NOTES: Purdy has been cleared to practice three straight days this week for the first time since elbow surgery. … Shanahan said he hopes LB Oren Burks (knee) and S George Odum (shoulder) will be ready for the season opener. … LB Dre Greenlaw, DE Drake Jackson, RB Elijah Mitchell, WR Danny Gray DE Robert Beal and DL Kalia Davis are expected back at practice this week. … TE George Kittle (hip) is expected back next week.
___
AP NFL: https://apnews.com/hub/nfl