By Darlene Superville | The Associated Press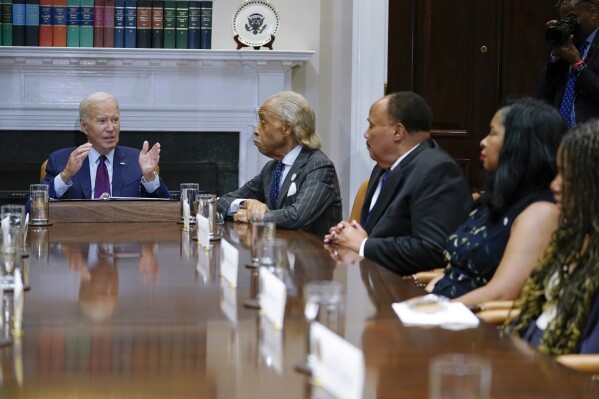 WASHINGTON (AP) — President Joe Biden and Vice President Kamala Harris met with the Rev. Martin Luther King Jr.'s family to mark Monday's 60th anniversary of the March on Washington, where King delivered his famous "I Have a Dream" speech at the Lincoln Memorial.
The White House invited a broad group of civil rights leaders to the meeting, including Martin Luther King III, his wife, Arndrea Waters King, his sister Bernice King and the Rev. Al Sharpton, along with representatives from organizations representing Jews, Hispanics and Asian Americans, according to Sharpton's National Action Network.
The Democratic president was taking a page out of history by opening the White House to King's family. On Aug. 28, 1963, the day of the March on Washington for Jobs and Freedom, President John F. Kennedy welcomed King and other key organizers of the march to the Oval Office for a meeting.
The White House initially said Biden's meeting would be closed to press coverage, but reversed course midday on Monday and said journalists would be allowed in for the top of the meeting. It comes two days after Saturday's racist attack at a Jacksonville, Florida store in which three Black people were shot to death by a white man wearing a mask and firing a weapon emblazoned with a swastika. The shooter, who had also posted racist writings, killed himself.
Biden also was to address a reception Monday evening to mark the 60th anniversary of the Lawyers' Committee for Civil Rights Under Law, a nonpartisan, nonprofit legal organization that was established at Kennedy's request to help advocate for racial justice.
In an opinion piece written for the Washington Post, Biden said the administration is working to advance King's dream of a society in which people don't judge others by their skin color.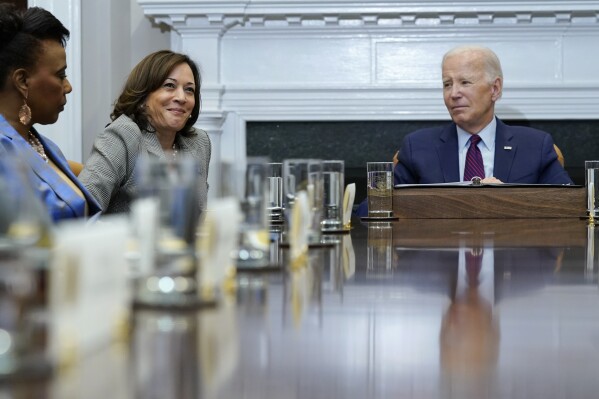 Biden said his policies have led to a drop in Black unemployment, more small businesses being opened by Black entrepreneurs and more Black families covered by health insurance.
He's given some $7 billion to the network of historically Black colleges and universities and has emphasized appointing Black people to his Cabinet and White House staff, throughout the federal judiciary and to independent agencies like the Federal Reserve.
"For generations, Black Americans haven't always been fully included in our democracy or our economy, but by pure courage and heart, they have never given up pursuing the American Dream," Biden wrote.
He also referenced Saturday's racist attack in Jacksonville, Florida.
"We must refuse to live in a country where Black families going to the store or Black students going to school live in fear of being gunned down because of the color of their skin," Biden wrote.
He called on the country to "reject the cramped view that America is a zero-sum game that holds that for one to succeed, another must fail," adding: "Let us remember America is big enough for everyone to do well and reach their God-given potential."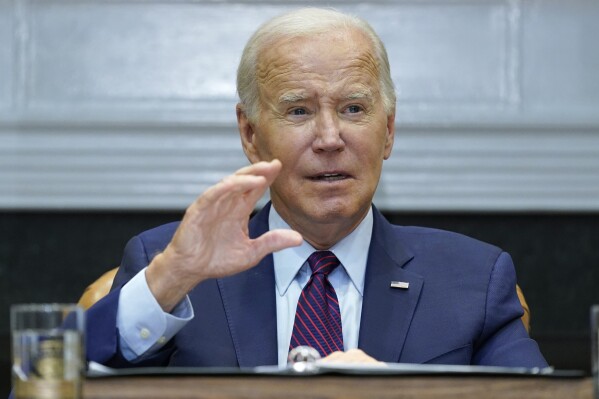 Biden's meeting with King's family and his remarks at the reception will give the president, who is running for reelection, an opportunity to appeal to Black voters by talking about what he and the broader administration have done to help make their lives better.
But Biden has also struggled to fulfill key promises to Black voters, perhaps the most loyal group in his political base. He kept a promise to put a Black woman — the first to serve — on the Supreme Court, but has been unable to follow through on pledges to shore up voting rights or enact changes to policing to help stop violence against people of color by law enforcement. Legislation on both issues has stalled in a divided Congress.
Harris, the first Black person elected vice president, said in a statement Monday that the march, though historic, "was neither the beginning nor the end of the movement for civil rights."
"Today, sixty years after that historic day, let us rededicate ourselves to the fight for equity, opportunity, and justice," she said. "And let us continue to work to secure our most foundational freedoms: the freedom to vote, the freedom of women to make decisions about their own bodies, and the freedom to live free from hate and violence."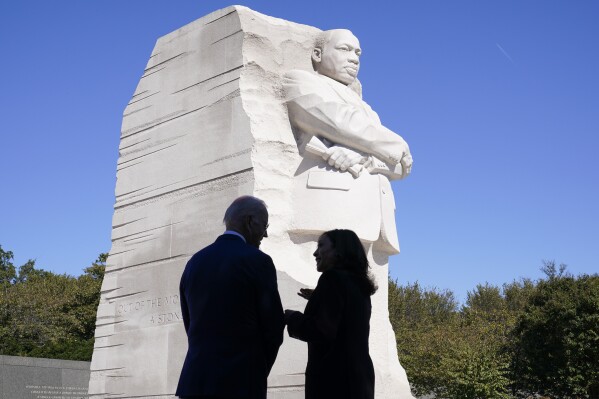 The 1963 March on Washington is still considered one of the greatest and most consequential racial justice demonstrations in U.S. history.
The nonviolent protest attracted as many as 250,000 people to the Lincoln Memorial and provided momentum for Congress to pass landmark civil rights and voting rights legislation in the following years. King was assassinated in April 1968 in Memphis, Tennessee.
On Saturday, the same day as the shooting in Florida, thousands converged on the National Mall for a 60th anniversary commemoration. Speakers and others said a country still riven by racial inequality has yet to fulfill King's dream of a colorblind society in which his four children "will not be judged by the color of their skin but by the content of their character."